Trent Reznor is the mastermind behind Nine Inch Nails, and the only permanent member so far. He was raised by his grandparents from the age of 5 after his parents divorced, in a small farming town called Mercer in Pittsburgh. He has a younger sister named Tera and their childhood was relatively normal, although isolated. He was a clean cut popular teen who enjoyed skateboarding, making model airplanes and participating with the Boy Scouts. He was also very into science fiction and comics, while his grandfather pushed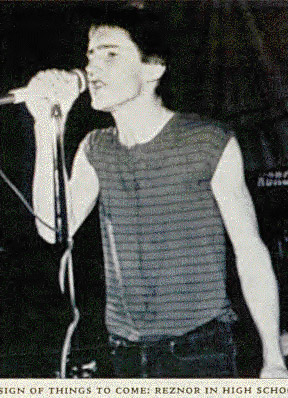 him to play piano and wanted him to become a professional concert pianist. The first record he bought was by the Partridge Family because the local record store in Mercer did not carry any alternative records, which caused Trent to completely miss the punk explosion of the '80's. The first concert he saw live was the Eagles, which his father took him to see. During high school he started copying songs from his favorite bands with the school's Moog keyboard and became interested in the 70's shock rock band Kiss, before he was turned on to David Bowie and other edgy pop groups.

After high school he moved onto Alleghany College where he majored in computer engineering. Trent became more interested in music during the early 80's instead of hanging out with the jocks and fraternities, and became fascinated with the ongoing debate over whether synthesizers could make "real" music. During this time he was a member of a few bands, including Option 30, the Urge, the Innocents, Slam Bam Boo, Lucky Pierre, the Exotic Birds and lastly the Problems, who made a brief appearance in the movie "Light Of Day" covering Buddy Holly songs. Trent played keyboard in all these bands but never had enough confidence to write any of his own songs. After getting nowhere with the bands he started working in a music store and eventually moved up to work in a recording studio. Trent would clean the studio's toilets at night so he could record his own music while nobody else was around.

At 23 years old he called himself Nine Inch Nails and released his first recordings called "Industrial Nation" through record company TVT. His musical influences were Skinny Puppy for their loud aggressive noise, and Ministry who added melody to their music, which not many industrial bands at the time did. Nine Inch Nails' first album has since sold over 1 million copies and was recorded in ony two months in England with John Fryer. it was entitled "Pretty Hate Machine" and has become a somewhat mainstream album because of its techno feel. As Trent's profile grew, he managed to get a slot on the Lollapalooza tour in 1991. He believes that live shows are a war between the band and the audience. If they fail to respond or are not responding enough he gets more aggressive to provoke them.

It would take over two years for Nine Inch Nails to release another album due to legal trouble with their record company. Trent tried to break his contract with TVT, but after a long court battle he was not able to break the signed agreement. The legal battle, a break up from a long-time girlfriend and performing a show every night helped to create the band's next album, "Broken" ('92) which was recorded in almost total secrecy. Later that year he released a re-mix of the album called "Fixed". Nine Inch Nails encountered more controversy when they made a video for a song off "Broken" called "Happiness In Slavery". It was one of the most graphic videos ever made and was banned by MTV. In the UK the video was taken back to the record company headquarters and ordered never to be duplicated. "Broken" went on to win a Grammy for Best Metal performance that year.

Trent got his own label through TVT called Nothing records after Jimmy Lovine, part owner of Interscope records, bought the company. For his next album "The Downward Spiral" ('94) Trent spent at least fifteen hours each day in isolation recording and writing songs. By coincidence, he bought the house at 10050 Celio Drive in Los Angeles to turn into a studio, only to find out later it was actress Sharon Tate's old house where she was killed with four other people by the infamous Manson family. The Mellotron sampler he used for "The Downward Spiral" was also used by John Lennon on "Strawberry Fields". The ablum hit No. 2 on the Billboard Top 100 Charts, while during the tour tickets for the 60 000 seats for the show in Chicago sold in only 220 seconds.

In '94 Nine Inch Nails got a slot on Woodstock's bill and was nervous to play before 350 000 people. On the way to the stage Trent pushed guitarist Danny Lohner into the mud face first which caused a huge mud fight between the band. By the time they got on stage they were no longer nervous and drenched in mud. The intensity of the live shows continued as keyboardist James Woolley broke his hand onstage and was almost knocked unconscious.

Trent faced more controversy when he was in charge of the "Natural Born Killers" soundtrack, a movie that was and still is banned in the UK. Oliver Stone, director, called Trent and asked him if he would mind using some Nine Inch Nails material in the movie. After seeing a private viewing, Trent became more involved and went as far to release the soundtrack on his record label. Throughout the whole process he watched the film over seventy times.

Trent moved from Cleveland to New Orleans and was surprised to find a picture of his house with the address in the local newspaper on his first day in town. His new studio in New Orleans used to be a funeral parlour and apparently has the doors of the Tate mansion where the Manson family wrote "PIG" in blood.

Nine Inch Nails third full-length album was greatly delayed for a [plethora] of reasons. Trent was hit with a lawsuit alleging copyright infringement, which was in the edn thrown out because there was no basis to the case. He was involved in many side projects with Marilyn Manson, Tori Amos, Davis Bowie, Goldie, Puff Daddy and a projectcalled Tapeworm with Nine Inch Nails' members Danny Lohner and Charlie Clouser which includes material originally discarded from Nine Inch Nails. He kept busy signing new bands to his label, creating a soundtrack for the video game "Quake" and a short affair with Kurt Cobain's widow, Courtney Love. [Negatively], his close friendship with Marilyn Manson broke off on bad terms, Trent almost suffered a nervous breakdown after his grandmother died and a bad case of writer's block kept the album delayed for five years. The new album released last september is titles "The Fragile" and contains 23 songs. Reportedly, Marilyn Manson and Trent are friends again and just finished a video for the single __________ with Manson appearing in it. The "Fragility v2. 0 Tour" kicked off at the beginning of April and will be appearing in Toronto on Friday, April 28. Currently, the live band consists of Charlie Clouser, Jerome Dillon, Robin Finck, Danny Lohner and Trent Reznor.